The JR Suita Station 6 shopping streets is located south east of Suita city, Osaka. The six shopping streets are Asahi dori, Katayama, Sakae dori, Shin-asahi dori, Suita sankus, Nishiki street. About 310 shops are in business now. There are shopping streets with arcade and Shopping Street that vestiges of Showa remains where you can find the old Japan. Variety shops where you can find restaurants to dine, clothing and miscellaneous goods shop to buy anything you need. Each shopping street has its own point card system which you can receive many benefits. There are all kinds of event around the year!!
JR Suita Station shopping streets 【Population of Suita city】375,522(※Male:179,877・Female195,645)
【JR Suita Station area population】 68,902
【Shops】300 shops The history of each shopping street Asahi dori:
It started from 1924 with 50 shops. After 80 years now it has 129 shops of total and is the largest shopping street in this area.
Katayama:
It started right after the World War II, 1946. Locate at north of JR Suita station. In 1981, shopping street build the arcade with blue tile, now it has become the land mark of its area.
Sakae dori :
When the Sankus 1, 2 and the 3rd building were built in 1977, the shopping street was established as it is today. It used to called [ Underpass mall ] for it was a shopping area in underpass.
Shin-asahi dori :
It used to be street vendors doing small business near the intersection of Asahi machi. Then in 1958, it formed today's style and an arcade was built in 1965.
Suita sankus shops :
It was established by the re-development of near JR Suita Station in 1979.
Access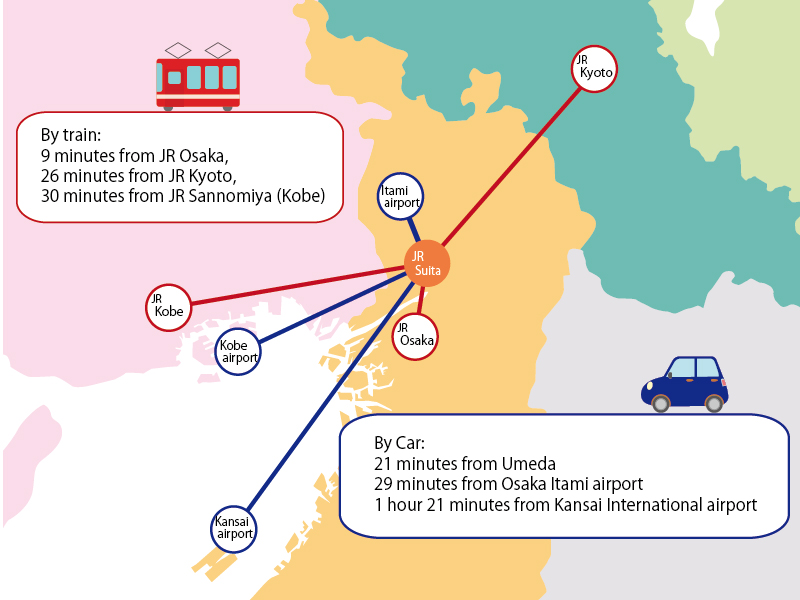 By train:
9 minutes from JR Osaka,
26 minutes from JR Kyoto,
30 minutes from JR Sannomiya (Kobe)
By Car:
21 minutes from Umeda
29 minutes from Osaka Itami airport
1 hour 21 minutes from Kansai International airport